Well, it's all that and more!
Everything we do, we do under the umbrella of "Howe About Montana". If you are having fun, enjoying yourself, learning something or any combination of those and more, then we are doing what we set out to do. Mike and Cindy promote ice fishing tournaments, travel to trade shows, donate time to Fishing without Barriers, conduct fishing seminars and help people make the most out of their time in the Flathead Valley.
Their love of the outdoors and Northwest Montana drives them to go above and beyond just running a charter business. The activities and other interests sprinkled on this page will give you a better idea of who we are what we love and hopefully create a connection that will last for much longer than the few hours you spend on a boat with us.
Snappy Sport Senter's Flathead Outdoors Radio Show
---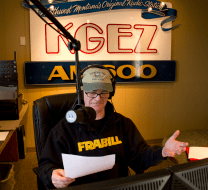 It was February of 2011. After a 30 minute meeting with the new manager of NW Montana's oldest radio station, Mike went home and told Cindy, "Well, we now have our own weekly outdoor radio show!" Neither had ever done anything like this, but saw an opportunity to provide something that was missing in the valley. Connected through dozens of people, active on internet forums and involved with so many activities in the valley, it was a chance to share all that we know, love and learn about our area each week. Sponsored by Snappy Sport Senter, the show was broadcast every Thursday night at 7 and repeated Saturday mornings at 830 on 600 KGEZ in Kalispell. The show ran for two years and ended in 2013 after business demands increased. Listen to a recent show here:http://soundcloud.com/flathead-outdoors-radio
The Perch Assault Ice Fishing Series
---

Founded in 2006 by Mike Howe and Chancy Jeschke, and now mostly run by Mike and Cindy has taken ice fishing and professional style tournament fishing in NW Montana to a new level. Always searching for ways to improve and offer more to each contestant, it is a labor of love that keeps us very busy from October to March every year!
Fishing Seminars
---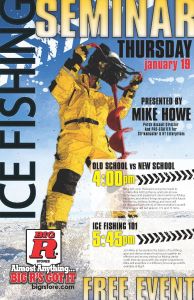 Mike loves to share his knowledge of fishing with everyone he comes into contact with. Presenting seminars on ice fishing, open water fishing, boat rigging and more, attendees always learn something and Mike usually does too.
Ice fishing basics, electronics on ice, old school versus new school, and western lake trout fishing are all topics Mike has presented in previous seminars and is always ready to share what he knows.